Cairngorms - The Four Highest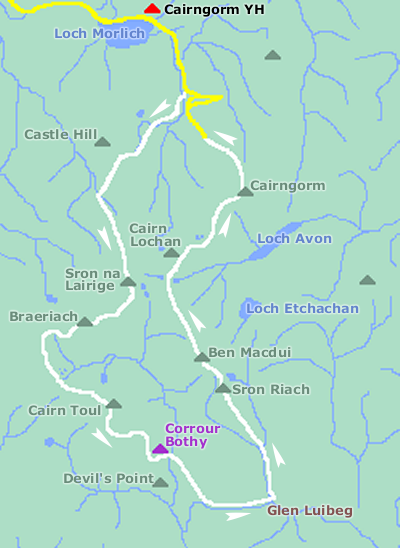 The winter months are not a time to attempt this walk unless you are very experienced. At any other time of year, you will still need to have decent map and compass skills. However, this high-level route will reward you with spectacular views and is certainly worth the effort.
It's possible to leave your car where the ski lifts are situated at the foot of Cairngorm, alternatively, a mini-bus runs from Aviemore.
You begin the walk half a mile back down the road from the ski lifts. A path on the left heads south westerly for three miles towards the start of the Lairig Ghru.
From here continue in the same direction for a mile and then turn southeast and make your way up towards Sron na Lairige. A faint path is visible to the top.
From the summit of Sron na Lairige, make your way down to the coll and then a steady climb takes you up to Braeriach. From here, it's reasonably simple and you will soon be on Cairn Toul's rocky summit. You can now continue along the ridge and descend back down to the glen just before reaching The Devil's Point.
Down in the glen, cross the River Dee and take the path to the left that takes you towards Glen Luibeg and then head north west up beside Luibeg burn.
You are heading for Sron Riach and if you check your map, you will see that the track to Ben Macdui via Sron Riach peters out, but on the ground, it is clear to the top. There are good paths all the way from Ben Macdui to Cairngorm.