Isle of Skye - Glen Sligachan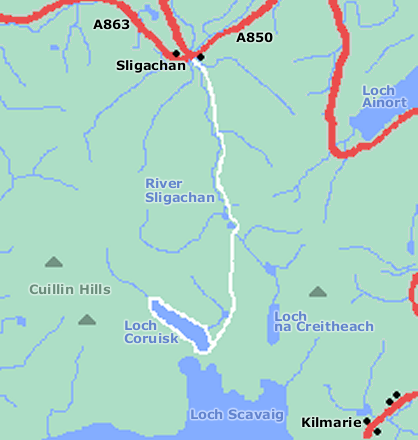 This is a fabulous walk, that takes you to the very heart of the Cuillins at the head of Loch Coruisk. The Cuillin Hills themselves, are quite difficult to climb and most require a lot of scrambling to conquer their summits; therefore, unless you are experienced, it's probably safer to stay on lower ground and this walk is a must.
It can't really be classed as a long distance walk, but is more enjoyable over 2 days and therefore, isn't a day walk either!
It's possible to leave your car near to the Sligachan Hotel, also a reasonable bus service operates along the A850.
Take the path that follows the River Sligachan on the east bank for approximately 4 miles until you come to a junction with another track. You need to follow the one to your right that heads in a southerly direction and it's important to keep an eye on your compass, especially in poor visiblity. After a short climb, you will be rewarded with your first view of Loch Coruisk and if the weather is clear, Loch Scavaig.
Follow the narrow path around Loch Coruisk on the northeastern side and you with find a perfect spot to camp at the head of the loch, surrounded by the towering Cuillins. For your return, continue around Loch Coruisk and then retrace your steps back through Glen Sligachan.