Loch Mullardoch and Glen Affric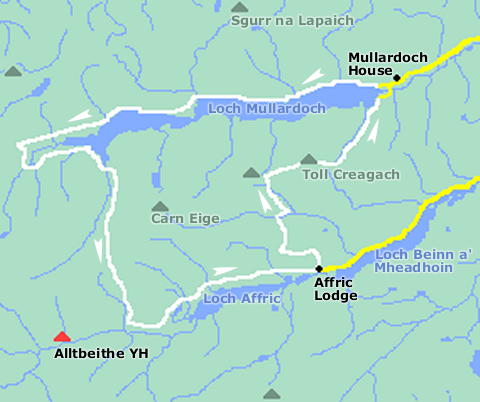 The best place to begin this walk is at the end of the singletrack road one mile after Mullardoch House. There is a small area for parking.
The path we are going to take on the northern shores of Loch Mullardoch, disappears for two short sections on the map, but don't worry because you will have little difficulty in finding your way.
At the head of the loch, we turn southwards and begin the gentle climb to Bealach Coire Ghaidheil and from here, a couple of miles takes you to the beautiful Glen Affric. From Affric Lodge it's north and back to Mullardoch.
Once again the path to Toll Creagach isn't present on the map but route finding on this grassy dome is easy and the views at the top quite breathtaking. The best way to return to Loch Mullardoch is to follow the Allt Fraoch-Choire that will take you all the way down to the shore. It's a bit of a scramble in places but good fun all the same!
This is a fabulous walk and still relatively undiscovered; therefore, this is a must for those wishing to escape the more popular routes.